Paid FMLA, STD, ADA, RTW. Perhaps you have heard these acronyms thrown around the HR world or maybe you deal with them yourself. Often times, if employers struggle with one, the others seem to lag not far behind. This is where BASIC comes in. We provide more than just FMLA administration. In fact, we have a solution for Return to Work (RTW), the Americans with Disabilities Act (ADA), Short-Term Disability (STD), and Paid Family and Medical Leave Act (FMLA).
For Paid FMLA, this is an increasing trend among states. In fact, right now, California, New Jersey, Rhode Island, and Washington all offer paid FMLA leave. BASIC's integrated absence management system provides tracking capabilities for both federal and state leave. Part of this tracking includes reporting the information for payroll purposes when an employee reports an absence for a specific paid leave. This allows for increased integration between payroll and leave management.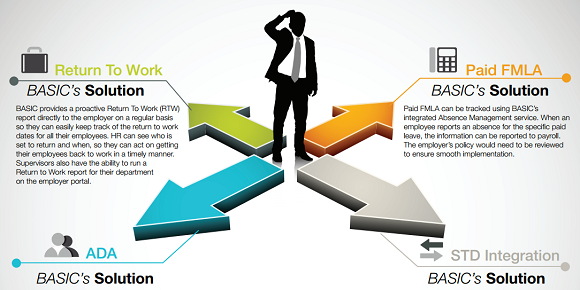 For STD, BASIC's system will capture all leave requests, and we will then check the initial eligibility of the employee by seeing if the employer has a STD benefit and if the employee meets the basic requirements like length of service. If they do meet initial eligibility requirements we will then send the form from the carrier to the employee for completion. Once completed, the employee then provides this to BASIC and to the carrier. This saves time, especially if the employer has different carriers for different locations because we are able to work with more than one carrier so that the employer doesn't have to send the completed form. Besides this, we can also send automatic file feeds to the STD carrier on an hourly or daily frequency in order to keep them informed of claims that come in. This allows the carrier to stay in the loop and to request further information if needed. It also speeds up the STD claims process by notifying the carrier promptly.
For ADA, BASIC is able to coordinate with the employer by providing any information we may receive regarding restrictions and/or limitations for ADA. This allows the employer to act faster. We also have the capacity to setup a custom leave that way we can track leave as an accommodation.  Looking ahead, we are planning to create the ability to have never ending leave meaning there's not an allocated amount of time associated with the leave. We'll also have enhanced tracking capabilities allowing the employer to track work accommodations, aka leave, by employee.
For RTW, we help the employer keep their records up-to-date. We have a report sent to the employer on a regular frequency which allows them to conveniently track the return-to-work dates of their employees. This provides HR with the tools they need to get employees back to work as soon as possible. In addition, supervisors can also run this report for employees in their department that way they are kept in the loop.
To learn more about BASIC's FMLA and absence management services, click here!
To request a proposal on our services, click here!
https://www.basiconline.com/wp-content/uploads/2019/03/BASIC-online-logo.png
0
0
sparkadmin
https://www.basiconline.com/wp-content/uploads/2019/03/BASIC-online-logo.png
sparkadmin
2017-05-18 06:49:37
2021-10-05 10:29:11
More than Just FMLA